Dyenamo offers competence and high-quality materials and equipment for solar energy applications, mainly dye-sensitized solar cells (DSSC), perovskite solar cells (PSC) and solar fuels. Due to our strong connection with the Swedish R&D consortium the Center for Molecular Devices (CMD), we are always at the frontier with regards to the latest development. CMD consists of research groups at the Royal Institute of Technology (KTH) in Stockholm (PIs: Lars Kloo, Licheng Sun, James Gardner), research groups at Uppsala University (PIs: Gerrit Boschloo, Håkan Rensmo, Erik Johansson, Haining Tian) and the DSSC/PSC activities at the research institute Swerea IVF AB.


---
Dyenamo management
Henrik Pettersson, CEO
Henrik Pettersson has more than 20 years experience of dye-sensitized solar cells and modules. He has worked with small companies (Ekologisk Energi AB, Leclanché), as well as within academia (EPFL) and at the applied research institute Swerea IVF. Consequently, he has in-depth knowledge of the DSSC/PSC history and technology aspects from research to commercialization.
Erik Gabrielsson, CTO
Dr Erik Gabrielsson has designed several of the Dyenamo products, e.g. the dyes DN-F04 (D35) and DN-F05 (D35cpdt). Moreover, he is one of the authors of the pioneering work on the DSSC-combination of cobalt-electrolytes and organic dyes.


---
Dyenamo advisory
Anders Hagfeldt, strategic advisor
Anders Hagfeldt is Professor at EPFL in Lausanne. He started to work on DSSC in 1991 and was on the Thomson Reuter's 2014 list of among the top 1% most cited in chemistry. In 2011 he was ranked as number 46 of the top-100 material scientists of the past decade by Times Higher Education.


---
Dyenamo founders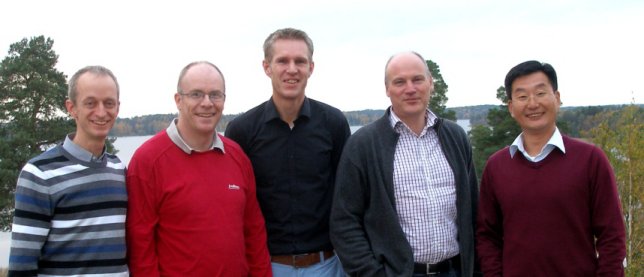 Dyenamo was founded in 2009 by; Gerrit Boschloo, Anders Hagfeldt, Henrik Pettersson, Lars Kloo and Licheng Sun. The founders are also the authors of the review "Dye-Sensitized Solar Cells", Hagfeldt, A.; Boschloo, G.; Sun, L.; Kloo, L.; Pettersson, H. Chem. Rev. 2010, 110, 6595, which has been cited more then 3000 times.